Getting there
All roads lead to Garmisch-Partenkirchen! Well ... perhaps not quite all roads, but surprisingly many do. An excellent motorway connection, several airports nearby and a great rail connection help make sure that your stay at the Fermi Symposium begins with a relaxed journey to Garmisch-Partenkirchen.
By Plane
While Munich is likely the most popular arrival airport, others do as well.
| Airport | Distance to Garmisch | Time with Flixbus |
| --- | --- | --- |
| Innsbruck (INN) | 32 km | 1h 00 min |
| Memmingen (FMM) | 85 km | 2h 15 min |
| Munich (MUC) | 108 km | 2h 05 min |
| Bolzano (BZO) | 116 km | |
By Bus
From Munich Airport:
Option 1: Direct bus to Garmisch-Partenkirchen, runs every 2 hours for 15 Euro; Booking page
Option 2: Take the S-Bahn S1 to Munich Main Railway station (runs every 20 min, takes 40 min, costs about 10 Euro) and change there to the railway (runs every hour, takes 1h20min, costs about 20 Euro)
From Innsbruck Airport: runs from City Center every 1-2 hrs, takes 1 hr, costs around 5 Euro; Booking page
From Memmingen Airport: runs from City Center, but only rare direct busses to Garmisch-Partenkirchen; takes 2h15min, costs 7 Euro
From Bolzano Airport: around 7:35, 10:40, 13:40, for 16-20 Euro; Booking page
By Train
German Rail offers a fast, attractive and environmentally friendly way of travelling to Garmisch-Partenkirchen. During the weekends, you can travel to and from Garmisch directly by ICE (Intercity-Express). There are, for example, direct connections from all major German cities (in case you don't arrive in Munich), as well as Innsbruck, where you do not have to change trains. A regional train runs hourly from Munich to Garmisch-Partenkirchen - check here for departure times.
By Car
Travelling from the north:
Motorway A95 – Exit Eschenlohe
Main road B2 – (Munich – Garmisch-Partenkirchen)
Main road B23 – (Augsburg – Garmisch-Partenkirchen)
Travelling from the south:
A12 / E60 Inntal Motorway
B2 / E533 Mittenwald – Klais – Kaltenbrunn – Garmisch-Partenkirchen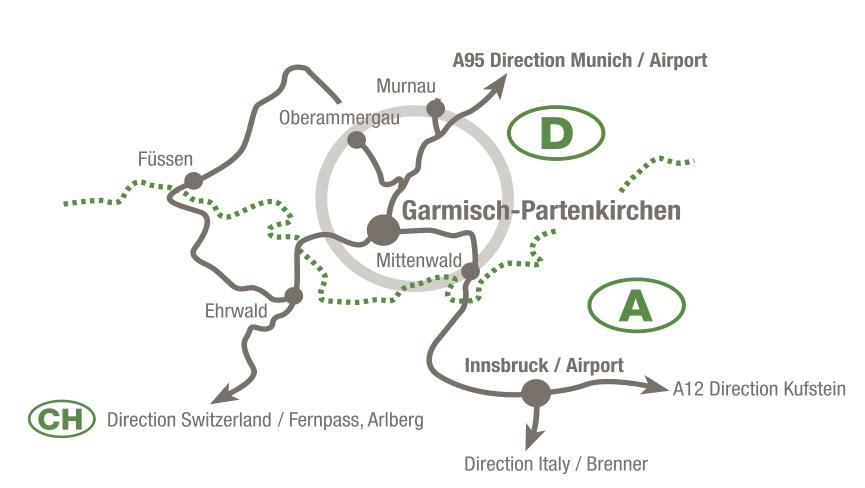 Getting Around
You definitely do NOT need a car to move around in Garmisch-Partenkirchen. A local area "Kurkarte" (visitor's card) allows you to travel on local buses for free. You will obtain your visitor's card from your hotel.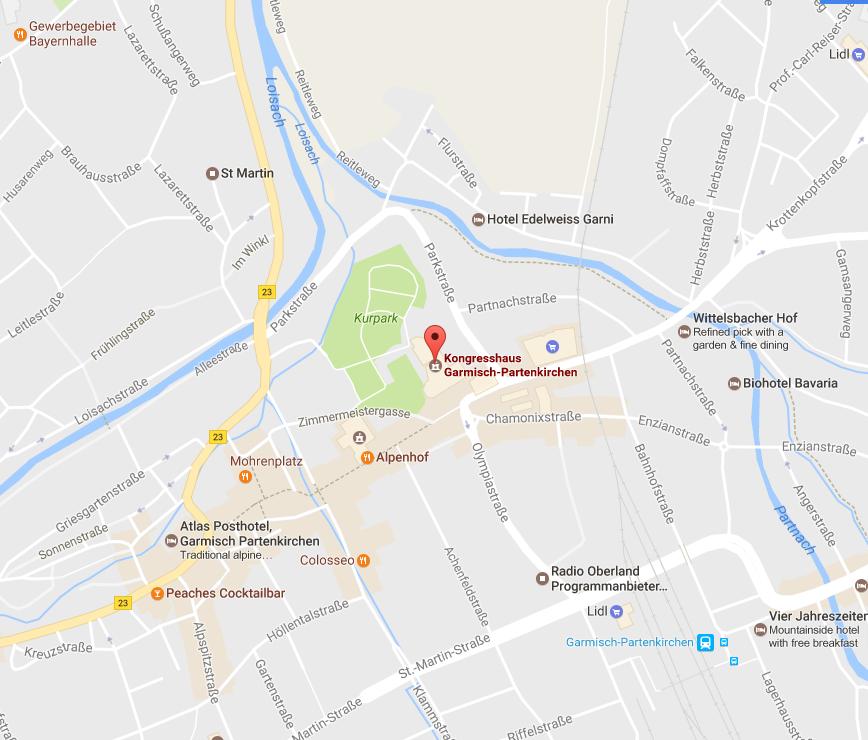 (Map courtesy of Google)
Local transport information is available:
Regional Bus Timetable
Combined Internet timetable for Bus and Train
Plain train timetable
A Local Garmisch-Partenkirchen Route planner helps finding your way, whether by walking, bicycle or motorized.
Of course, you can rent a car or a bike – or book a taxi:
Car rental
Bicycle and mountain bike rental
Taxis in Garmisch-Partenkirchen